MEET DIRK DE BRUIN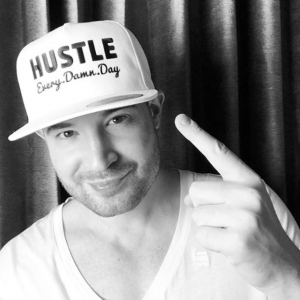 Dirk de Bruin's e-Learning Story
"Hi, I'm Dirk and welcome to the "about" page of Six Figure Inc.
Here I'd like to share a bit of my story with you about my own personal journey.
Originally from Amsterdam in the Netherlands, from a family with a history of being entrepreneurs, it was pretty sure from an early age that I wouldn't end up going to college or university after school, but instead get started with work right away.
Suggestions to me have always been around classic trades. "Become an electrician, a carpenter, a plumber… and you'll always be able to earn a living".
There's nothing wrong with any of those professions, but it just wasn't for me.
I knew from an early age that I wanted to be independent and be able to live my life on my own terms, and have the freedom to do what I want, when I want.
A 9-5 or even a business that requires my physical attendance in a specific location at a specific time wasn't the answer.
I had no idea yet what I was going to do to get the lifestyle I dreamed of, but it would soon be revealed to me…
My Introduction To "Internet Marketing"
I first got introduced to the concept of making money on the internet through Glen Allsopp (who now runs a popular blog Gaps.com).
Glen and I met through a mutual friend in Cape Town, South Africa. He was barely 18 at the time, but already very successful, having been offered a job in online and social media marketing from a company that found his work online.
Glen and I started hanging out more, and one day he showed  me how he made a $50 commission from selling a digital product (and how he makes these kinds of commissions on a regular basis).
My mind was blown, and instantly I recognized the potential  of being able to build a business online, with the ability of being able to do this kind of work from anywhere, on my own terms.
And so my journey began…
My Multi-Year Struggle To Online Success
Little did I know that it would take me years and tens of thousands of dollars invested into education, courses, coaches, mentors and masterminds to figure out what I know today.
I wish I had a complete A-Z training course teaching me how to build a six figure online business from scratch when I started…
But back then (10+ years ago), there wasn't the information and training that there is today. In fact, even today there's still an incredible amount of misinformation, making it hard to determine who you should listen to or not.
This is one of the biggest reasons I created the Six Figure Inc training, to help others get to where I am without having to put in years of trial and error and a small fortune to figure it out on their own. But more on that later, let's get back to my struggles…
Blogging
I started my attempts to make money online with a blog.
I created a website, installed WordPress, setup a theme and started writing articles about topics that were interesting to me at the time.
For about two years, I focused on this blog. Writing 1-2 lengthy articles every week.
During my "blogging" days, I'd learn about affiliate marketing (how to make commissions for referring people to other people's products), SEO (search engine optimization and ranking in Google), various other traffic generation techniques such as guest posting…
After those first two years, I'd actually managed to get the blog making about $1000 USD a month, with an email following of around 10,000 people.
It wasn't a bad result for my first online business, but if you'd work out the compensation per hour for time I committed to it, it would be more profitable to get a job at McDonalds.
I created my very first digital product, an e-Book with my best articles in it, in line with the blog I was working on. I worked on this product for a few months, and when I finally launched it (thinking I would become an overnight millionaire), I made just over $1000.
No matter what I tried, I couldn't get my monthly income from the blog up over $1000/mo, and eventually (after about 3 years of working on it) I just gave up, listed the blog for sale and sold it for about a 15x multiple.
Again… not bad, but far from a fulltime income.
Affiliate Marketing + SEO
I needed something new to work on, and since I'd had some success with affiliate marketing and SEO, I started building mini websites around specific topics with the intention to rank those in Google for profitable keywords, and then monetize the website by referring visitors to people's products and making commissions if my referrals made a purchase.
This kept me busy for about 2 years, and I managed to have months where I'd make $2000 or more. A step up from the blogging income, but this model I was following wasn't without problems.
The income I was making was completely at the mercy of Google and the rankings of my websites for those keywords. Google however, constantly kept making updates and changes to their algorithm, and every few weeks or few months, a website that was making money, would drop in the rankings and my income would stop.
I didn't realize it back then, but I wasn't running a business, I was just exploiting a strategy for short term gain. If my income could be disrupted overnight by Google, and I couldn't repeat my success over and over, and scale it to larger numbers… I didn't have a business.
Eventually, I smartened up and figured out that this was never going to work long term, and I sold off all my affiliate sites for whatever I could get for them.
I needed something new as I didn't have a job, and my savings were running out, fast…
The one thing I knew was that I was going to make money online, I just didn't know how.
I'd spent 5 years with blogging and the SEO affiliate sites, and didn't really have much to show for it.
Consulting / Client Work
One day I'd heard about a method someone was sharing, called "Rank and Rent". Essentially building up a website that ranks for specific keywords in Google (especially local business keywords), and then renting out the website to a business who would benefit from the leads.
This sounded pretty cool, so I got to it, and built a website for personal injury lawyer type keywords in a city in north America.
I was able to rank the website in the number 1 position for "Personal Injury Lawyer CITY", and it started getting a couple hundred hits a month.
Not really knowing what to do with it, I placed an image on the website that said "this website is for rent, contact me for details".
Literally within a week, I had an email from a lawyer in the city saying he was interested.
And to my surprise, he was more than happy to rent the site from me for $1000/mo!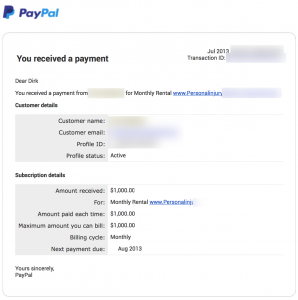 This blew my mind!
I'd spent a few hours building and ranking a site, and now I'd be making a guaranteed $1000/mo as long as the site ranks? (In hindsight, the lawyer was getting a killer deal and I should have asked for way more, but at the time it was a lot of money for me and I was happy to be making it).
Wow! Time to build a whole lot more of these kinds of sites…
So that's exactly what I did…
I started building out dozens and dozens of these website to rank for local business keywords, with the intention of renting them out to business owners for a passive income.
And this success and strategy became the foundation of what would become my very first six figure online course a.k.a. infoproduct…
My First Six Figure Product
At this point Glen and I had become pretty good friends and we'd chat regularly, sometimes even on a daily basis.
Naturally I'd share all my struggles with him, but also all the successes. And this was a success worth sharing.
Now, Glen was pretty "Internet Famous" and had a marketing blog with a large following or 10,000+ readers.
Glen had also had success with his own digital product in the past, so when I suggested that we create an online training sharing the strategies I'd been using to rank websites and to get local businesses as clients, he was immediately in.
The next few weeks we spent creating a members area with video and text training documenting the various strategies how to rank websites in Google and how to get local businesses as clients…
We put together a sales page with results and proof of the strategy and we launched it to Glen's audience.
We priced the product pretty high (or so we thought at the time), for a whopping $97… and ended up doing just over six figures in revenue.
That once again, blew my mind.
I realized that there was money to be made in doing things myself, but there is also a LOT of money to be made teaching other people how to solve a problem or how to get a result. (Another good example of this is penny-stock trader Tim Sykes who makes decent money trading stocks, but makes a fortune teaching people how to trade)
And with information products, you create the product once, and you can sell it for a long time to come, and sell it to hundreds, thousands or even tens of thousands of people for the same amount of effort.
From this moment on, I was sold on the infoproduct model as an online business….
e-Learning and Infoproducts
The online business model knows as e-Learning or infoproducts is one that has been around for the most part of the past 2 decades now.  Thanks to the improvement in technology (smartphones, tables, computers and high internet speeds), e-Learning is really starting to become much more mainstream.
e-Learning is a fantastic way as a consumer to brush up on knowledge or to learn completely new skills, while not having to break the bank and spending a small fortune attending a formal college or university program.
As a business model, it's also fantastic because it allows anyone to share their knowledge and experience with the world in the form of an online course or digital membership.
The barrier to entry to create your first online course or infoproduct is virtually non-existent….
You can get started with your smartphone, computer and an internet connection. That's literally all you need.
Shoot a series of videos, write an ebook, record audio tracks…
Create a digital membership area for your students, it's as easy as a closed Facebook group, Skype group or Slack group.
As I wrote earlier, I've been hooked on this model since 2013 after being able to generate six figures in a few weeks, and helping hundreds of people master a skill and improve their lives in a way.
My journey hasn't been an easy one, but it's changed my life and given me the freedom I've dreamed of. I want to pay that forward and help others achieve the same, in an easier, faster way than I've done it, by sharing my personal blueprint that goes from zero to hero, while avoiding the struggles and failures along the way.
My goal is to help at least 10,000 people create their first infoproduct and guide them to building a successful business around that.
The best way I can reach this goal of helping so many people, is through the very model that I teach, e-Learning.
Introducing Six Figure Inc…
The Six Figure Inc Training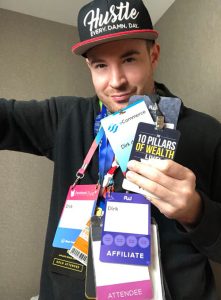 Six Figure Inc is my digital training and membership area that contains the blueprint to building a six figure digital information product business.
My "overnight success" has taken me 10 years, and more than six figures invested into education, courses, conferences, masterminds and coaching.
What always bothered me over the years is that I've never been able to find a single course or program that taught me exactly what I needed to know to be able to go from nothing to a six figure, sustainable online business…
That's why I decided to create this program myself, after having gotten the results I was looking for, many times over, in many different niches, so that I can really help people get started from scratch.
I know how difficult it can be, especially without a community or having a coach or mentor who really cares about your success.
I've personally paid thousands of dollars for 1 on 1 coaching, only to have my "coach" just care about his fee being paid and not making more than the minimum effort needed to help me progress and success.
There are too many fakers, fraudsters and downright unethical people in the online business space, and they give those of us who aren't like them, a bad name.
Aiming to be someone who truly wants to help others succeed, my program Six Figure Inc is created to be the most comprehensive, easy to follow, easy to apply, step-by-step training to help people get started from scratch and make their first digital product and their first online sale… all the way up to their first six figure business and beyond.
I strive to make myself personally available as much as possible to help my students progress and succeed. I want to be involved and be here as your support and motivation to push you to keep going.
I believe anyone can build an online business that generates six figures per year, but guidance, support and a proven blueprint are crucial factors to achieving that kind of success.
What Lies Ahead…
The plans for Six Figure Inc were formed more than 3 years ago, and it's finally here in the way that I've envisioned the program to be.
I'm only just getting started though, and the goal of helping 10,000 students is just the first stepping stone to much bigger goals.
Some of my students have become my best friends who I hang our with regularly and meet up with all around the world.
What do you think… want to build a six figure digital product business and make a difference to the lives of others in the process, and have my support and guidance to help you do just that?