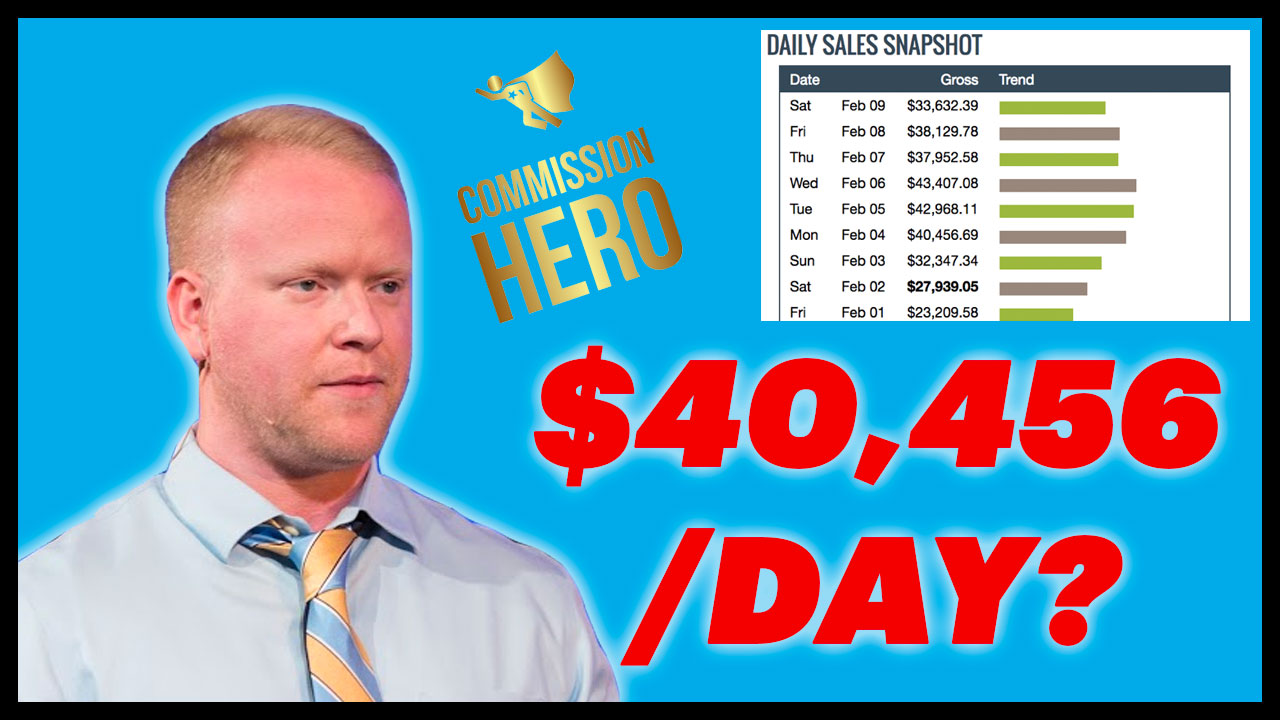 https://www.sixfigureinc.com/wp-content/uploads/2019/07/Com_hero_thumb-50x50.jpg
Introduction
If you're here because you heard about Robby Blanchard's course Commission Hero and you want to know whether it's worth the price tag (and even better – does it work?), then you're in the right place.
Be sure to read this entire review to see how I'm already doing $100 days within two weeks of joining and putting the strategies into action.
I've personally purchased the program and put it to the test before writing this review so you can rest assured that I'm not just writing this review to be able to make a commission if you buy it through my link (which if you do end up buying it as a result of this review, I'd appreciate it if you do use my link).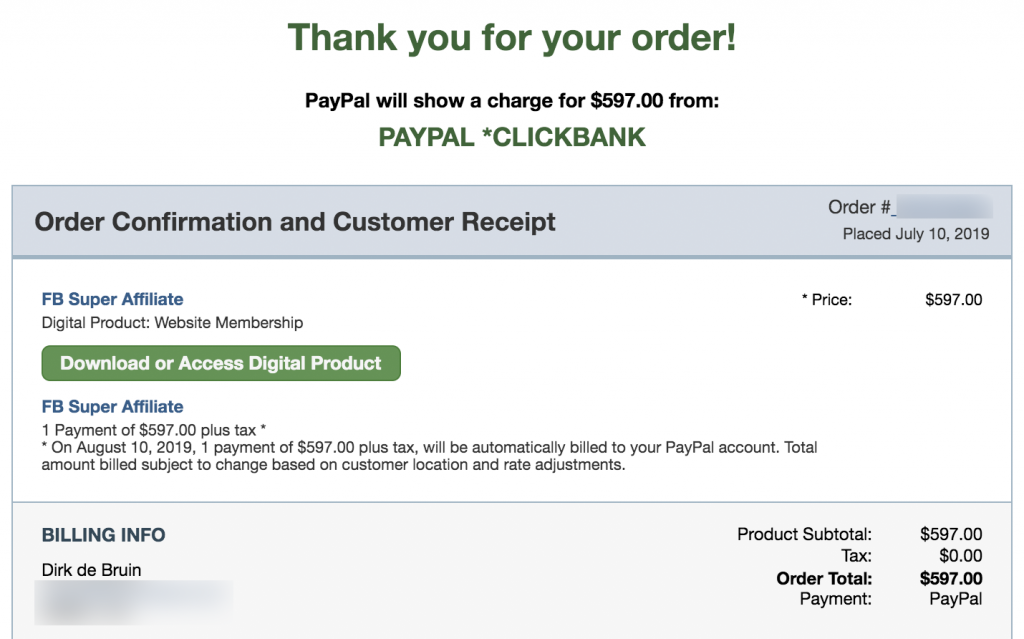 What Is Commission Hero And How Is It Different To Other Courses?
Commission Hero is an online course that teaches you how you can make money online through affiliate marketing, with a specific twist.
There's a ton of courses on affiliate marketing out there, I know, so what makes this different?
Firstly, Robby Blanchard (the course creator), has been doing online marketing for several years and has made millions of dollars before teaching it to others (more on this in the next section).
Secondly, the strategy Robby teaches keeps things simple.
It's about getting maximum results without making it complicated.
He only teaches what is essential and what works.
This allows you to consume the course content in just a few hours of watching, and you're ready to get started.
This is always a plus in my book because I'm always excited to get started asap.
The strategy focuses on using paid advertising on Facebook, to drive traffic to a COMPLIANT landing page, which then links out to affiliate offers.
You might be thinking that this doesn't sound like anything new, and I guess you're right in the way that this concept has been around for years.
It was working a decade ago, and it's still working. And Robby's got it down to an art that just plain works.
On top of that, Robby actually gives you everything you need to get started: the ad copy, images, targeting, landing pages, which offers to promote.
He basically hands it to you on a platter so you can just copy/paste it and set it up.
You probably have a ton of questions right now, I'll get to them, but first, who is Robby Blanchard?
Who Is Robby Blanchard?
Robby is a regular guy from Massachusetts who just a few years ago was a struggling personal trainer in a crossfit gym.
He got started with Facebook advertising to get more clients for his gym, which lead him to a journey of mastering advertising and then going on to setup his own media agency https://robbyblanchard.com/ to take on other gym owners to help them get more clients with the strategies he's implemented for himself at his own gym.
He's mentioned that his media agency is a 7 figure per year agency and as you can see on his website, he lists some high profile businesses as his clients.
Robby stumbled on to using Facebook ads to promote affiliate offers, and over the years he's really been able to fine-tune his strategy and make millions of dollars doing just that: Facebook ads promoting affiliate offers.
Specifically offers on the digital marketplace Clickbank.com.
In fact, that's one of his big achievements and why he's so qualified to teach others his strategies…
In January 2019, Robby was listed as the number 1 affiliate on Clickbank.com, producing the most sales in a single month ($1 million dollars), in the entire world.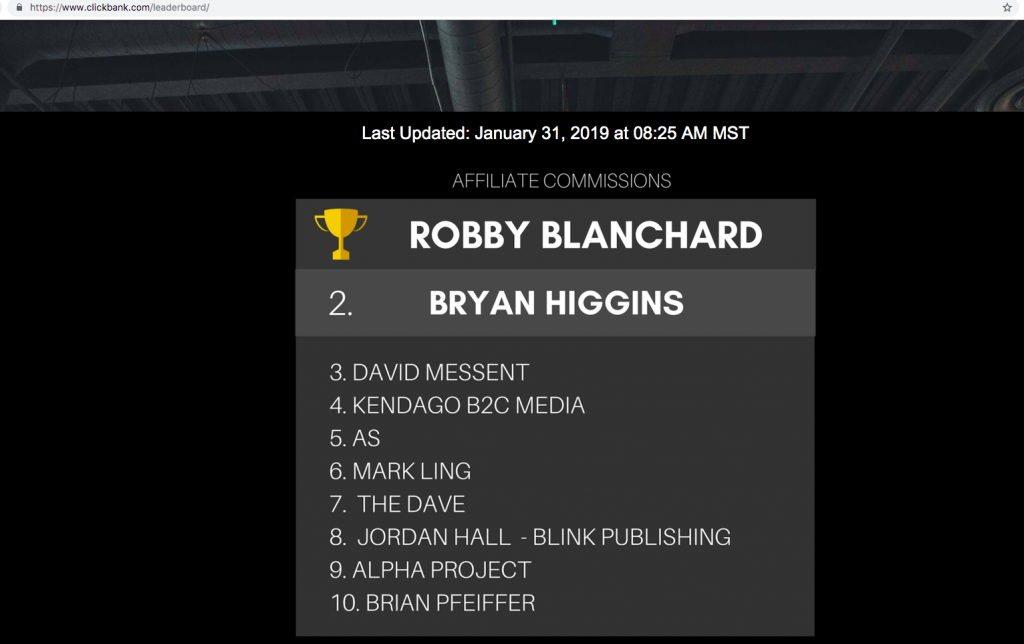 I'd guess you're thinking that this could be photoshopped, but the proof that this is real and he did indeed win the January 2019 affiliate contest can be found on the official Clickbank marketplace website here and here. (In other words it can't be faked because it's on the official site).
Robby is the real deal, and besides being 100% legitimate, he's actually a really nice guy who goes above and beyond to personally answer questions and help his students succeed.
Let's Be Real, Is This A Scam?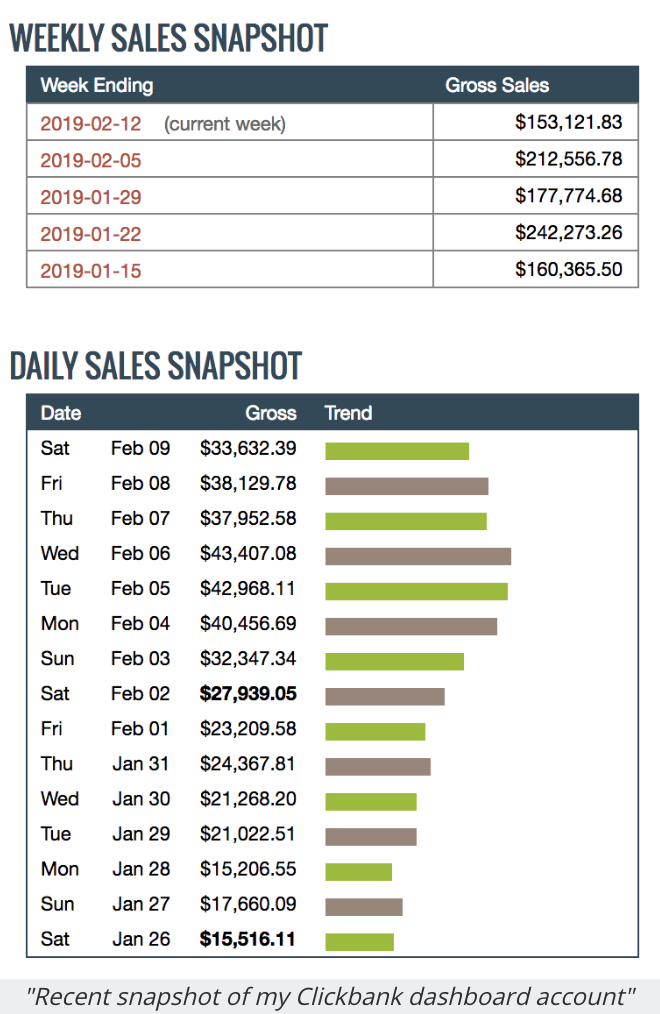 I have no doubt that you're wondering whether or not this is a scam. After all, the average person makes $50k in a year, and Robby claims to be making it in a single day.
Well, I don't blame you for being skeptical, I was too and that's why I personally purchased the program to put it to the test before writing this review.
While I can't personally verify the numbers that Robby has done on Clickbank, I can verify that the training in Commission Hero is legit and that the system works.
As you saw above, I joined the program on July 10th, 2019, and I had my first commission from promoting an affiliate offer as per the training within 9 days, and I've been making consistent commissions on a daily basis, almost reaching $500 in a single day already!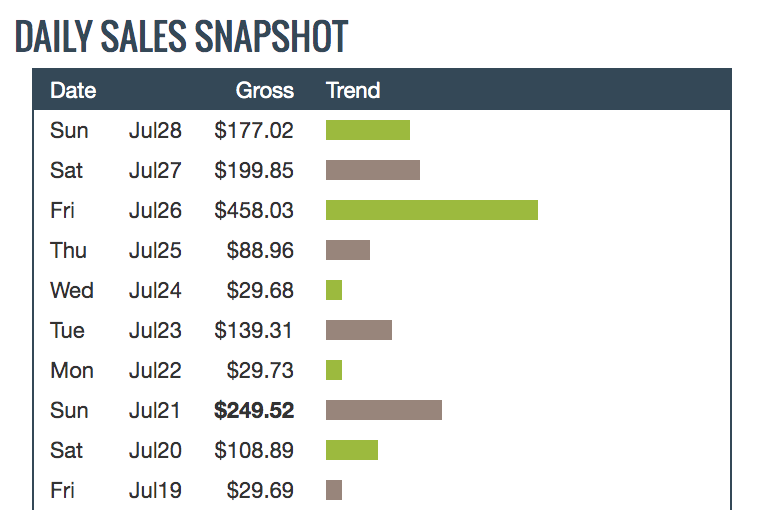 Now of course this is not all profit as there is advertising cost involved, but on certain ads I'm running at a 70% return on ad spend, meaning I spend $100 and make back $170.
Not bad in my opinion, and I'm continuing to work away at it to scale this to $1000 per day and more at those kinds of profit margins.
Seeing these kinds of results myself from purchasing the training, implementing it and actually getting the commissions in my Clickbank account gives me the confidence to say that without a doubt, Commission Hero is NOT a scam.
Besides the training, there is a private members-only Facebook group (with more than 700 students in it!) where you can get your questions answered by Robby personally and by other members who are further ahead of you.
It seems like almost every day there is someone making their first $100 day, or $1000 day, and it's incredibly inspiring to see this.
Student Results
As I'm part of the program and in the members Facebook group of Commission Hero, I see on an almost daily basis what kind of results the students are getting.
It's pretty inspirational to put it mildly, and I've never been part of a course where so many students are getting such impressive results so quickly after joining.
Typically success rates are in the single digit percentages for courses, but here I'm estimating it's MUCH higher than that.
Have a look at what the students in Commission Hero are achieving (and by the way these are all real people that you can meet and talk to once you're in the Facebook group):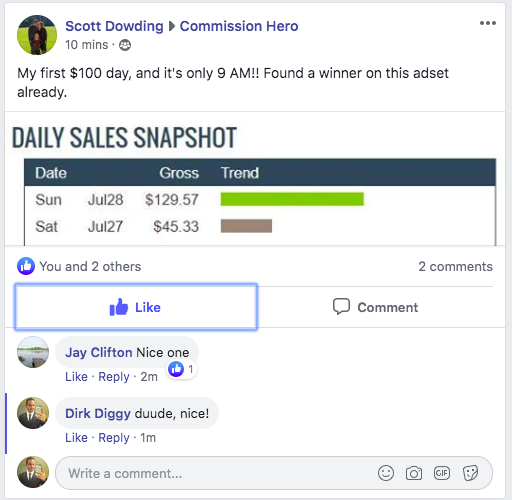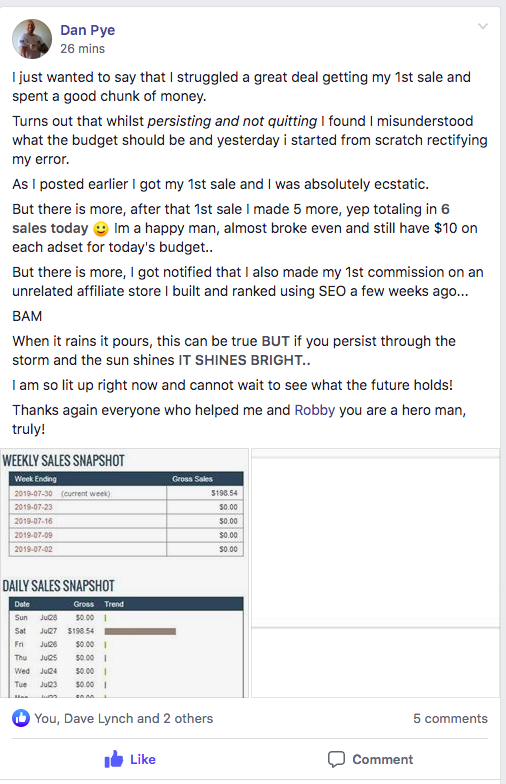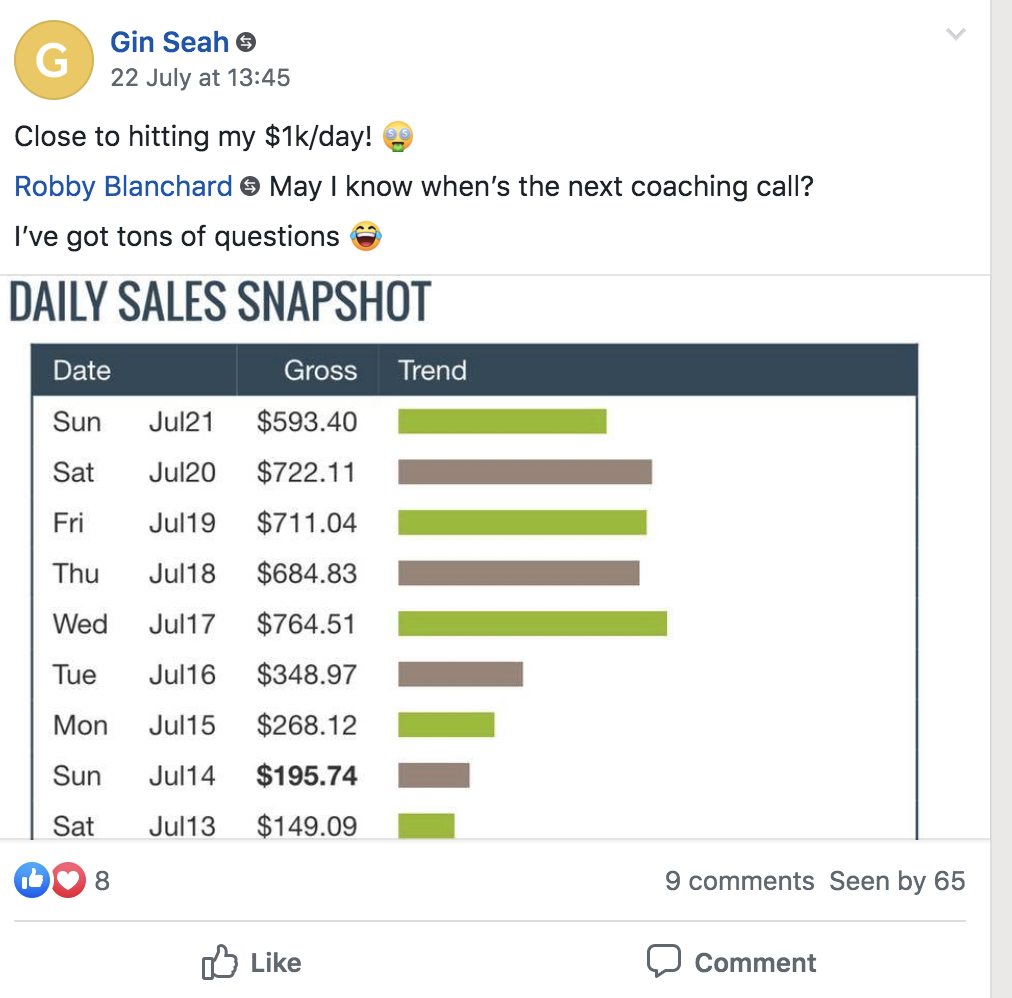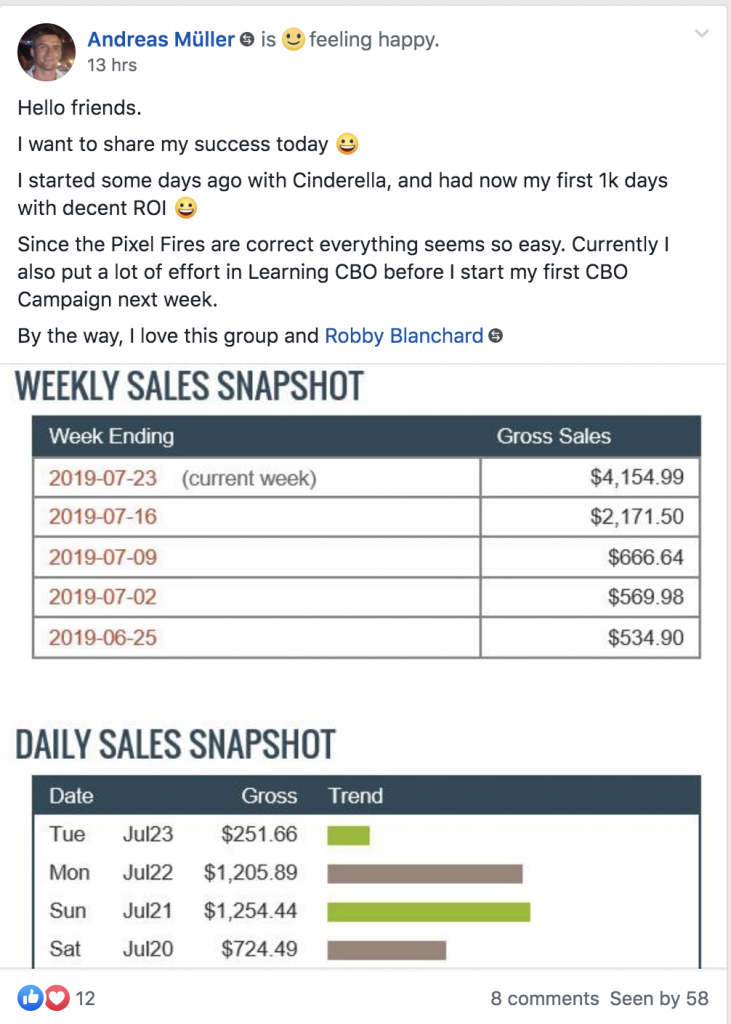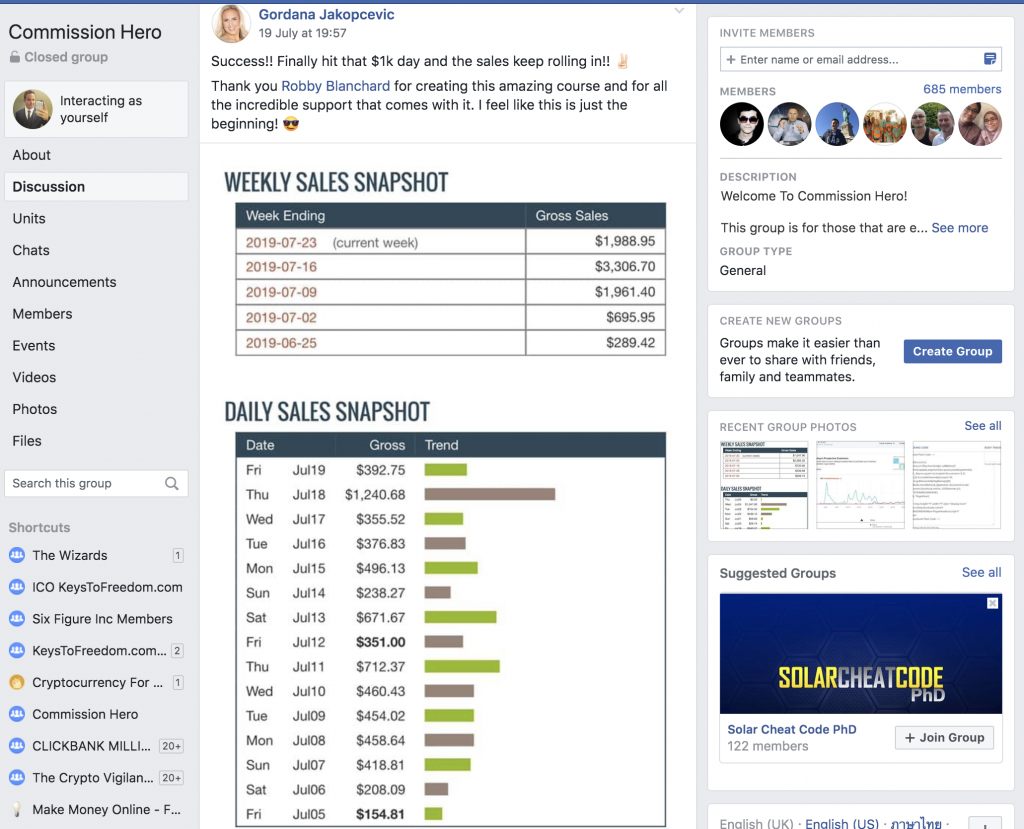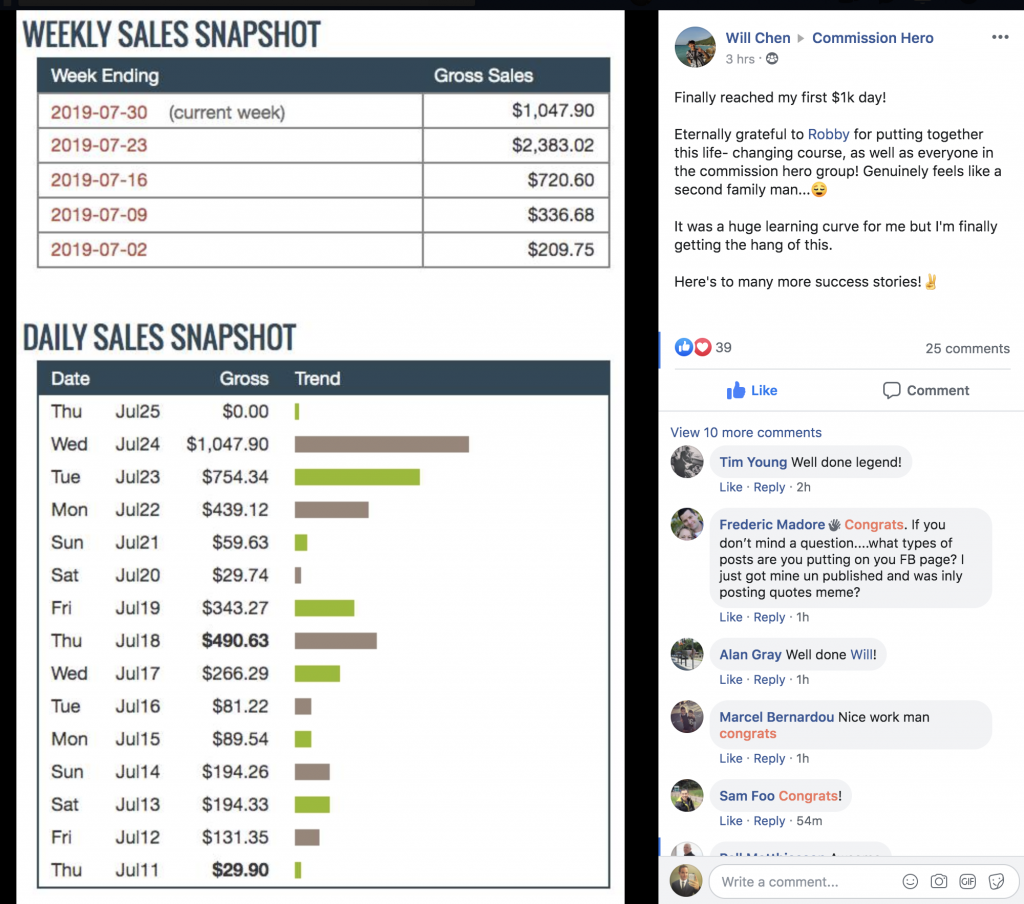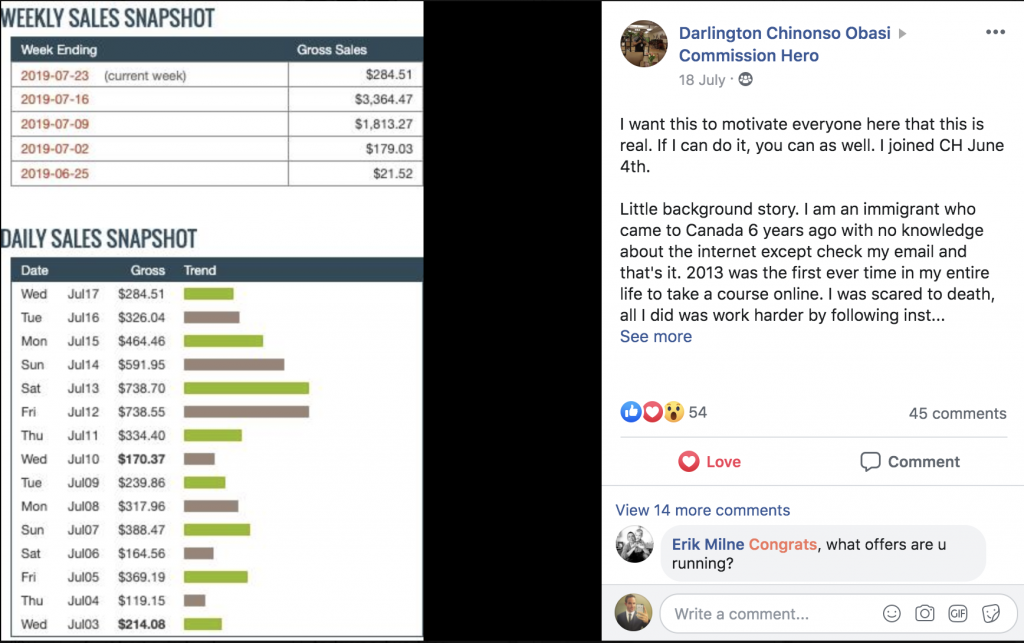 Doesn't Facebook Hate Affiliate Marketing?
Good question!
Facebook has strict advertising policies to ensure good user experience for people on the platform.
Facebook typically does not like affiliate marketing if it's done in a way where it affects the user experience negatively or makes false claims just in order to make a sale, and I think this is a good thing.
So, typically you can't direct-link to affiliate offers in your ads.
However, by creating a compliant landing page, you're able to send Facebook users to this page, which then has the ability to get users to click through to the affiliate offer where you can make a sale and earn a commission.
And believe it or not, these landing pages actually improve your conversions because it allows you to presell your visitor before sending them on to the affiliate offer, increasing the chances that they'll buy.
So, while Facebook may not like direct-linking to affiliate offers, the strategy that Robby teaches in Commission Hero is completely whitehat and compliant with Facebook's policies.
There is no deception or cloaking or blackhat stuff going on at all, and if you follow the strategy, Facebook actually likes what you're doing and is more than happy to accept your business as an advertiser.
What If I'm A Complete Beginner
Commission Hero is perfect for complete beginners.
The training is very comprehensive and shows you exactly how to get started from scratch, even if you know nothing about Facebook ads or affiliate marketing.
Additionally, Robby is personally available to answer your questions, and there are many helpful members in the Facebook group that will gladly jump in to help answer your questions.
You can complete the training at your own pace, and you can go as fast or as slow as you like. There is no time-limit on the training.
In fact, maybe of the (literally) hundreds of members have never done Facebook ads or affiliate marketing before and are already making their first commissions thanks to the training that Robby has put together.
Should You Buy Commission Hero? (My Personal Verdict)
I can't tell you what to do with your money.
What I can tell you is that if you're looking for a no-BS course to learn affiliate marketing from someone who's made millions of dollars with it, and you want a system that can get you results in a matter of days, without needing your own product or service to sell, then Commission Hero gets "my both-thumbs-up" recommendation.
The training is really comprehensive, you get given all the ad images, copy, targeting, landing pages and offers to promote so you can just copy/paste your way to your first commissions, and you get to be part of a Facebook group where you get direct support from Robby and other members.
I'm also in the program personally, so we'll get to chat and hang out in the group when you join too!
So, in my opinion, Commission Hero is totally worth the price tag and it may just be the training you need to finally start making money online and become financially free.
If you do decide to sign up for Commission here, I'd really appreciate it if you use my link.
This won't affect the price for you, but will earn me a commission, and in return I'll gladly make myself available in the group to help you get up to speed and make your first commission as fast as possible.
If you'd like to see more, I've also created a video review of Commission Hero below: